USCIS is Temporarily Extending Validity Period of Form I-693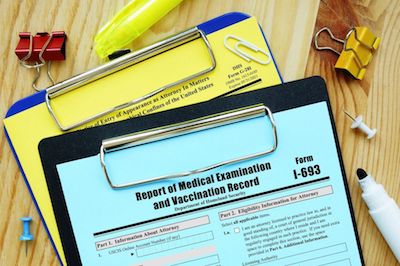 Beginning on August 12, 2021, U.S. Citizenship and Immigration Services is temporarily extending the validity period for Form I-693, Report of Medical Examination and Vaccination Record, from two years to now four years due to COVID-19-related delays in processing.
USCIS may consider a completed Form I-693 as valid if:
USCIS is making this temporary change because COVID-19 has caused processing delays and affected applicants' ability to complete the required immigration medical examination. Previously, USCIS considered a completed Form I-693 to retain its validity for two years after the date the civil surgeon signed, as long as the date of the civil surgeon's signature was no more than 60 days before the applicant filed for adjustment of status.
USCIS is on track to approve more employment-based adjustment of status applications than it has since FY 2005.  USCIS have prioritized employment-based adjustment of status applications during every step of its processing and adjudication during this fiscal year. USCIS continue to make processing and resource allocation decisions to increase the pace of adjudications and limit the potential for employment-based visa numbers to go unused.
Please note that the information provided on this website is for general information purposes only and is not to be construed nor relied upon as legal advice nor the formation of an attorney-client relationship. For a free consultation with Attorney Thomas M. Lee, please contact us.
Client Reviews
Get in Touch
1 Free Consultation
2 Decades of Experience
3 High Success Record
Fill out the contact form or call us at
(213) 251-5533
to schedule your free consultation.