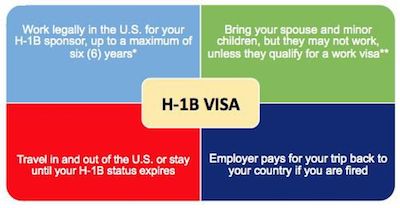 H-1B visas are dual intent visas, meaning an H-1B holder, who entered as a nonimmigrant, can have legal immigration intent to permanently reside in the U.S.
The H-1B visa category is for highly educated foreign professionals to work in "specialty occupations" that require a minimum of a bachelor's degree or its equivalent. Due to the high demand for this visa, there is a cap of 65,000 that can be issued each fiscal year. Those who have a master's degree have an additional 20,000 visas available. Exceptions to this numerical cap are those who are employed by an institution of higher education or its affiliated or related nonprofit entities, a nonprofit research organization or a government research organization.
The position for employment must also meet the specified requirements: Minimum requirement of a bachelor's degree (or its equivalent) or higher, the degree requirement must be a standard in other parallel positions in the industry or be so complex that it can only be performed by an individual with the required degree, the employer generally requires a degree for the position, and the job duties is highly specialized and complex that it can only be performed with the knowledge associated with the attainment of a bachelor's degree or higher.
Types of Specialty Occupations
2018 SOC major groups
Code — Title
11-0000 Management Occupations
13-0000 Business and Financial Operations Occupations
15-0000 Computer and Mathematical Occupations
17-0000 Architecture and Engineering Occupations
19-0000 Life, Physical, and Social Science Occupations
21-0000 Community and Social Service Occupations
23-0000 Legal Occupations
25-0000 Educational Instruction and Library Occupations
27-0000 Arts, Design, Entertainment, Sports, and Media Occupations
29-0000 Healthcare Practitioners and Technical Occupations
31-0000 Healthcare Support Occupations
33-0000 Protective Service Occupations
35-0000 Food Preparation and Serving Related Occupations
37-0000 Building and Grounds Cleaning and Maintenance Occupations
39-0000 Personal Care and Service Occupations
41-0000 Sales and Related Occupations
43-0000 Office and Administrative Support Occupations
45-0000 Farming, Fishing, and Forestry Occupations
47-0000 Construction and Extraction Occupations
49-0000 Installation, Maintenance, and Repair Occupations
51-0000 Production Occupations
53-0000 Transportation and Material Moving Occupations
55-0000 Military Specific Occupations
The occupations listed above are the 23 major groups with each having subcategories divided into minor, broad, and detailed.
To apply for the H-1B Electronic Registration Lottery Process, the applicant or petitioner will need to make a USCIS online account. The registration is available for 14 days from the registration open date. Each registration is for a single beneficiary and the required nonrefundable fee is $10. Duplicates, if any, must be deleted within that time frame, otherwise it will get rejected.
After registration selection ends, USCIS will notify registrants and their representatives via their USCIS online accounts. For each registration, the registrants' USCIS online account will show one of the following:
Submitted: The registration submitted is eligible for selection.
Selected: Selected to file an H-1B cap petition.
Not Selected: Not eligible to file an H-1B cap petition.
Denied: Multiple registrations were submitted for the same registrant and therefore denied. All registrations for the fiscal year will be deemed invalid.
Invalidated-Failed Payment: A registration was submitted but the payment method was declined, not reconciled, or otherwise invalid.
If selected, the employer can begin the application to apply for the H-1B visa on behalf of the applicant.
Employer/Agent must submit a Labor Condition Application (LCA) Form ETA-9035/9035E for certification by the Department of Labor (DOL)
Employer/Agent must submit a completed Form I-129, Petition for a Nonimmigrant Worker to the USCIS with a certified LCA.
Once Form I-129 is approved, prospective workers outside of the U.S. may apply for the H-1B visa through the U.S. embassy or consulate abroad, if required. In addition, the H-1B worker must apply to the U.S. Customs and Border Protection (CBP) for admission to the U.S. in the H-1B classification.
Please note that the information provided on this website is for general information purposes only and is not to be construed nor relied upon as legal advice nor the formation of an attorney-client relationship. For a free consultation with Attorney Thomas M. Lee, please contact us.
Client Reviews
Get in Touch
1

Free Consultation

2

Decades of Experience

3

High Success Record
Fill out the contact form or call us at
(213) 251-5533
to schedule your free consultation.