How to Prepare for a Green Card Interview 2.0
Ever since I began practicing immigration law in 2000, I have used the same methodology in preparing my countless clients for their green card / adjustment of status interviews. First impressions are truly important during any interview with the USCIS. A key to making that important first impression is thoughtful organization of your supporting documents. Many USCIS adjudicating officers have complimented me on how I prepare my clients for their interviews and tell me terrible nightmare stories for those who come to their interviews unprepared. In particular, the USCIS officers tend to disfavor the unprepared – those who bring their documents in a disorganized fashion piled randomly in a shopping bag. This is because the unprepared interviewees take the longest amount of time when they are asked to show their documents, causing needless delay to the process by fishing through a haystack of papers to find the all important needle. Testing the patience of a USCIS officer who has to go through an entire day of 10 or more interviews in a day benefits no one.
Organize Your Documents In Labelled Manila Folders
The typical green card interview involves cases where a U.S. citizen seeks to sponsor their spouse. If the marriage is less than 2 years old at the time the green card application is filed, the law presumes that the marriage is fraudulent and places the burden of proving the marriage is bona fide on the petitioner and their spouse. Hence, organization is imperative as it shows preparation and transparency. The organization of the documents should be focused and organized in 3 major groups: (1) documents about the beneficiary, such as their passport, visa, I-20, divorce records, birth certificate, and marriage certificate; (2) documents about the petitioner, such as evidence of their U.S. citizenship, divorce records, and 3 years of tax returns with paystubs and a job letter; and (3) evidence of living a shared life together (such as an apartment lease agreement / grant deed, bank account statements, utility bills, cell phone bills, credit card statements, health and life insurance, auto insurance, DMV registration(s), and other applicable records. Note, it is a good idea to bring as many of each of the documents rather than just one. For example, don't just bring the recent bank account statement, bring as many of them that you have. All of these documents should be kept in their own labelled manila folder as pictured below: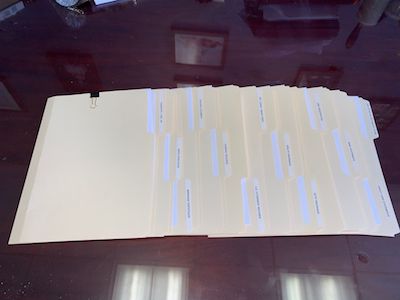 Originals On The Left And Copies On The Right
USCIS officers want to examine original or certified copies of relevant documents, such as marriage and birth certificates along with passports, and then have a copy for their file. When an interviewee does not provide copies of their documents, this will force the USCIS officer to get up from their desk, walk down to the copier, and return with a copy, inevitably causing more needless delay and possibly annoying the officer. Hence, it is advisable to organize each folder such that the original document is clipped on the left side and a copy clipped on the right as pictured below: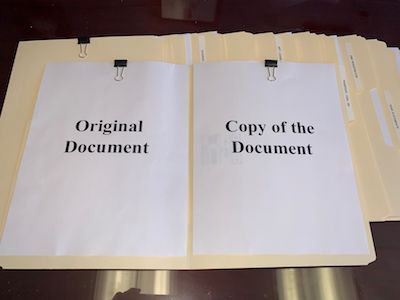 Use Binder Clips, NOT Paper Clips
Paper clips are simply not strong enough to hold on to thick documents such as passports, and they tend to slip off or get stuck to other folders. Binder clips are preferred because they are stronger and help keep your documents in place.
Proving Your Marriage is Bona Fide
The law provides that every marriage which is entered into within 2 years of submitting a green card application is presumed to be fraudulent, and the burden of proving the marriage is bona fide and not a "marriage of convenience" is on the petitioner and applicant. As such, the USCIS will expect to see documents to provide the marriage was not entered into for immigration reasons and that the petitioner and applicant physically live together. Examples of such documents include, but are not limited to, the below:
Documentation showing joint ownership of property;
A lease showing joint tenancy of a common residence, meaning you both live at the same address together;
Documentation showing that you and your spouse have combined your financial resources, such as bank statements, credit card statements, investments, automobile / health / life insurance, cell phone bills, utility bills, etc.;
Birth certificates of children born to you and your spouse together;
Affidavits sworn to or affirmed by third parties having personal knowledge of the bona fides of the marital relationship. Each affidavit must contain the full name and address of the person making the affidavit; date and place of birth of the person making the affidavit; and complete information and details explaining how the person acquired his or her knowledge of your marriage; or
Any other relevant documentation to establish that there is an ongoing marital union.
Photo Albums
Photo albums need to be traditional and focus on the relationship. In order words, print out your digital photos on 5X7 or 6X4 photo paper and put them into a bulky scrapbook album. The USCIS will not accept a CD or thumbdrive of your 10,000 plus photos. Plus, keep your pictures G-rated. Finally, make sure your pictures belong in a photo album worthy of keeping as a cherished memory. Pictures of you and your spouse watching TV at home have zero value compared to pictures taken during trips, in front of landmarks, and with extended families and friends at various parties and occasions.
RED FLAGS and Separate Interviews!
While almost every married couple will state that their marriage is real, there are red flags that tend to cause the USCIS to be suspicious. Typical red flags are:
Large disparity of age
Inability of petitioner and beneficiary to speak each other's language;
Vast difference in cultural and ethnic background and interracial marriages;
Family and/or friends unaware of the marriage;
Marriage arranged by a third party;
Marriage contracted immediately following the beneficiary's apprehension or receipt of notification to depart the United States;
Discrepancies in statements on questions for which a husband and wife should have common knowledge;
No cohabitation since marriage;
Beneficiary is a friend of the family;
Petitioner has filed previous petitions in behalf of aliens, especially prior alien spouses.
If one or more of the above red flags exist, then it is likely the USCIS will separate the spouses into different rooms and ask each person several questions about them. Alternatively, the USCIS could also just ask questions while both spouses are in the same room and have them answer in writing or orally. The answers must match or overlap as much as possible. Contradictions will likely lead to a denial of the green card application and deportation. Hence, married couples should be prepared to answer questions regarding how/when/were they first met, first dated, last ate a meal at a restaurant together and what each ate, describe their hobbies or fun activities they enjoy together(sex is NEVER a good answer!), describe every detail of their home (TVs, computers, bedrooms, kitchen, refrigerator color), what each spouse wears to bed at night, brand of shampoo / toothpaste, color of toothbrushes, pets, where each spouse stores their clothes, names of neighbors, body features (allergies, tattoos, birthmarks), name of last movie seen together, names of TV both spouses enjoy watching together, work schedules, and shower/bathing times and other routines.
Final Thoughts
Most important of all is to be yourself and nothing more. If you and your spouse are not into having public displays of affection, there is no need to do it at the interview. Remember, the USCIS officers expect you to be nervous, but most of all, honest. If you are nervous and can't remember the date your spouse was born or when you were married, say so! It is 1,000 times better to say "I can't remember because I am nervous" than making up a date as that will be seen as perjury. Lying to a USCIS officer could lead to not only a denial of your green card, but also being placed into removal / deportation proceedings. However, being truthful and open will often be appreciated by the USCIS officers and likely lead to favorable results.
Please note that the information provided on this website is for general information purposes only and is not to be construed nor relied upon as legal advice nor the formation of an attorney-client relationship. For a free consultation with Attorney Thomas M. Lee, please contact us.
Client Reviews
Get in Touch
1

Free Consultation

2

Decades of Experience

3

High Success Record
Fill out the contact form or call us at
(213) 251-5533
to schedule your free consultation.