California Mask Mandate Extended Through Feb. 15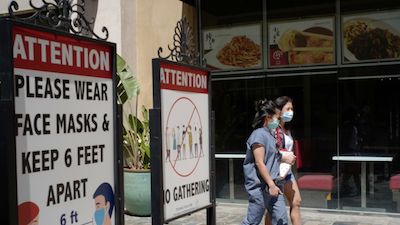 The California Department of Public Health has extended the requirement for universal masking indoors until February 15, 2022. The state order does not mandate the use of surgical masks or higher-level respirators such as N95s, but it does encourage their use.
The Los Angeles County Department of Public Health has gone one step further than the state guidance and issued an updated order requiring employers to provide medical-grade masks, surgical masks, or higher-level respirators such as N95 to employees who work indoors and in close contact with other workers or the public, at all times while indoors or at the worksite, by January 17, 2022.
Exemptions to Mask Requirements
The following individuals are exempt from wearing masks at all times:
Persons younger than two years old. Very young children must not wear a mask because of the risk of suffocation.
Persons with a medical condition, mental health condition, or disability that prevents wearing a mask. This includes persons with a medical condition for whom wearing a mask could obstruct breathing or who are unconscious, incapacitated, or otherwise unable to remove a mask without assistance.
Persons who are hearing impaired, or communicating with a person who is hearing impaired, where the ability to see the mouth is essential for communication.
Persons for whom wearing a mask would create a risk to the person related to their work, as determined by local, state, or federal regulators or workplace safety guidelines.
Employers should continue to monitor Cal/OSHA, local health the California Department of Public Health, and the local health departments for changes to COVID-19 workplace requirements.
Please note that the information provided on this website is for general information purposes only and is not to be construed nor relied upon as legal advice nor the formation of an attorney-client relationship. For a free consultation with Attorney Thomas M. Lee, please contact us.
Client Reviews
Get in Touch
1

Free Consultation

2

Decades of Experience

3

High Success Record
Fill out the contact form or call us at
(213) 251-5533
to schedule your free consultation.